1. History
      Founded in 1964, Dazhi Municipal High School was originally a junior high school with a reputation for students' excellent academic performance. Later in 1998, it was transformed into a six-year school, with enrolment of both junior high and senior high students. During its junior high school years, Dazhi High School had weathered the tide of educational reform and gradually evolved into a celebrated high school. Since then, Dazhi has been oriented at providing the best educational experience for the students on campus and beyond.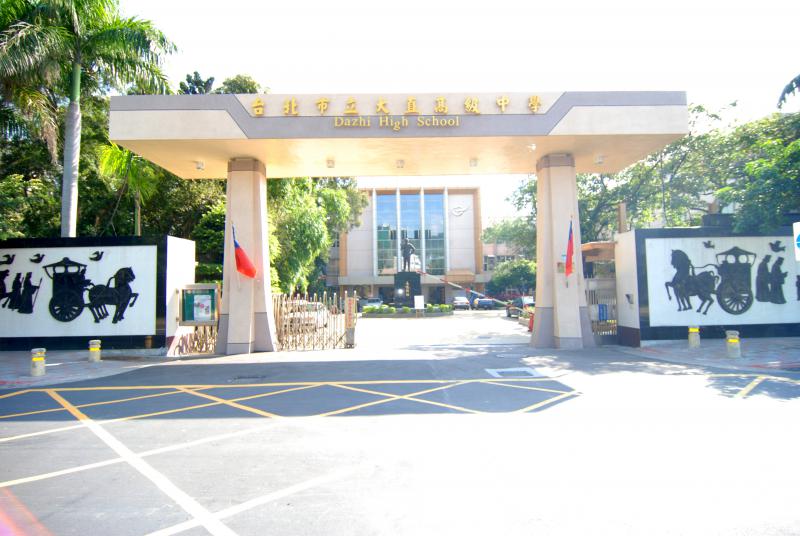 2.Campus Information
Address: No. 420, Bei-An Road, 10462 Zhongshan District, Taipei City, R.O.C.
Tel.: 2533-4017                                                                              
Website:  http://web.dcsh.tp.edu.tw                                                                      
Transportation:
Dazhi High School Station: Bus No. 21, 42, 208, 213, 247, 267, 287, 646, 902, Red 2 and Red 3

Dazhi Elementary School Station: Bus No. 28, 33, 72, 222 and 286

MRT Muzha – Neihu Line : Dazhi Station   
      The area of the campus is 34478 square meters, with Ji Nan Hill in the front, Keelung River in the back, Yuanshan District on the left and Neihu District on the right. The transportation is convenient. Fuxing Underground Passage and Dazhi MRT Station are closely nearby, and MRT Neihu Line is having transport service. There are about 2000 students and 31 classes in senior high school and 27 in junior high school. Sixty percent teachers have master's degree. Teachers and students maintain harmonione relationships with one another.
3. School Logo
      In Xiao Yao You, Zhuangzhi, one fable has it that there was a big fish in the North Sea. When transforming into a big bird, with its wide-open, colorful cloud-like wings flapping, it could stir the sea wind, beat the water and fly high up in the sky to the distant South Sea. Whether being the big fish or the big bird, it could be adaptive and reach the state of freedom. In the past, like the big fish, Dazhi Junior High School was celebrated and admired for being the prestigious junior high school. Now transforming into the big bird, Dazhi Senior High School lead the way of educational development for other high schools  the trend of educational reforms. Through the image of humanity, art and technology, Dazhi now has transformed into a big bird, soaring to distant places in the blue sky.
4. the Campus
       Through the magnificent main gate and hallways, what come into view are well-equipped classrooms laid out in a square pattern. Besides, there are two grand buildings, Yingxi Building and Science Building serving particular teaching purposes. Yingxi Building includes audio-visual labs and classrooms for various subjects like Chinese, art, social science, dance, and shooting. To keep up with the Information Era, there are also computer labs and distance learning labs in Yingxi Building. As for Science Building, there are labs for natural science and monographic study. Classrooms for music and home economics are also located in this building.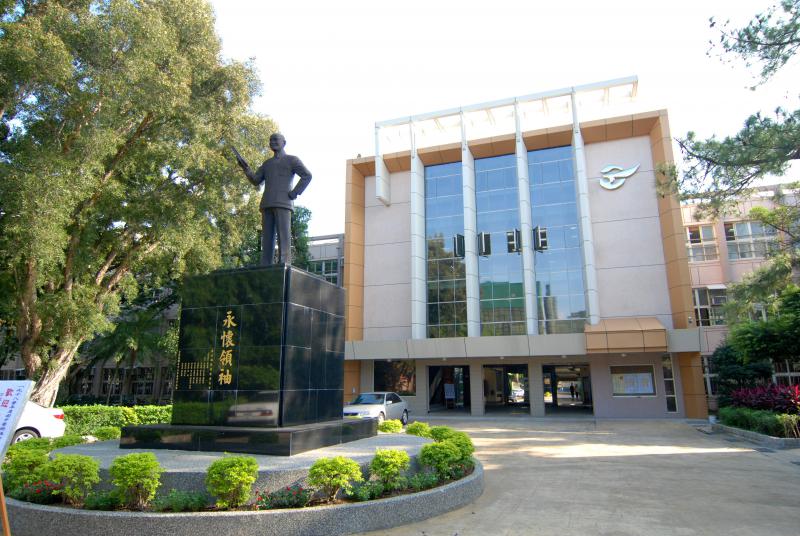 Among "The Eight Scenic Spots of Dazhi" elected by the teachers and students, the lotus pond is the most impressive. This ecological pond has been awarded as the recommended work in the public art exhibition held by Department of Culture Affairs of Taipei City Government. It was also selected as one of the finest art exhibits by Council of Cultural Affairs in 2004. This work attracts visitors' attention with about ten clay-made "Birds of Heart", which are located on the driftwood and float with flowing water. In addition, the wooden path surrounding the pond, which creates interaction between nature and art, has made the stroll around the pond a unique and pleasant experience.